Premium Pet products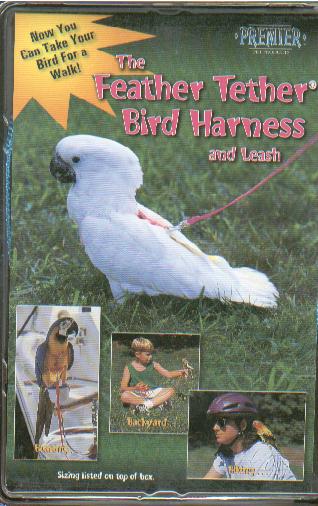 | | |
| --- | --- |
| PR001 | The Feather Tether Bird Harness and Leash (Petite) |
| PR002 | The Feather Tether Bird Harness and Leash (Small) |
| PR003 | The Feather Tether Bird Harness and Leash (Medium) |
| PR004 | The Feather Tether Bird Harness and Leash (Large) |
The Feather Tether™ Bird Harness allows you to enjoy the company of your bird without the danger of fly-aways. The more your bird has been handled, the easier it will be to put the harness on, and the more quickly he/she will accept it. Young birds are especially easy to work with. If you are working with an older or difficult bird, here are a few tips:

Have another person help you during the fitting and for the first few times you put the harness on.
Fit the harness at a time when your bird is hungry, and use its favorite treats for distraction and reward.
For very agitated birds you might try covering the head.
Once the harness is on and properly fitted, immediately take your bird outside as a reward. Your bird will soon learn to associate the harness with the fun of going outside, and many birds become very visibly excited with anticipation when they see their harness!

Perching vs. Walking - If your bird will be primarily perching on your shoulder or another object, you'll want the leash to fall from the chest. If your bird will be walking (while you garden or picnic on a lawn), you'll want the leash to extend from the back.

How to Adjust the Harness: Use small metal slide adjustment(s) to shorten strap(s) to appropriate length. Harness should fit snugly, high up on body, but not so tight that it rubs or interferes with movement of wings. It's very important that lower strap(s) are not so loose that the bird can catch a foot in the strap. Getting the proper fit may take a few minutes or more depending on the temperament of your bird. You may wish to pre-adjust harness somewhat before you first put it on. We recommend you make adjustments while harness is on the bird - simply unsnap strap and adjust, then re-snap. Again, having another person help you (along with tasty treats) makes the whole process much easier.